Books
2018
Rosalind Dixon and Theunis Roux (eds)
Constitutional Triumphs, Constitutional Disappointments: A Critical Assessment of the 1996 South African Constitution's Local and International Influence (Cambridge University Press, 2018)
The 1996 South African Constitution was promulgated on 18th December 1996 and came into effect on 4th February 1997. Its aspirational provisions promised to transform South Africa's economy and society along non-racial and egalitarian lines. Following the twentieth anniversary of its enactment, this book, co-edited by Rosalind Dixon and Theunis Roux, examines the triumphs and disappointments of the Constitution. It explains the arguments in favor of the Constitution being replaced with a more authentically African document, untainted by the necessity to compromise with ruling interests predominant at the end of apartheid.

Jessie Blackbourn, Deniz Kayis and Nicola McGarrity
Anti-Terrorism Law and Foreign Terrorist Fighters
(
Routledge
, 2018)
This book evaluates whether the new legislation introduced in Australia and the UK is, in fact, necessary, appropriate, and effective at dealing with the foreign fighters phenomenon. It will be of value to academics and students who teach, research, and study the ever-evolving area of anti-terrorism law and counter-terrorism policy and of interest to academic scholars and students in a number of fields including law, comparative politics and government, and terrorism and security studies.
Rosalind Dixon (ed)
Australian Constitutional Values (Hart Publishing, 2018)
Vigorous debate exists among constitutional scholars as to the appropriate 'modalities' of constitutional argument, and their relative weight. Many scholars, however, argue that one important modality of constitutional argument involves attention to underlying constitutional purposes or 'values'. In Australia, this kind of values-oriented approach has been advocated by leading constitutional scholars, and also finds support in the judgments of the High Court at various times, particularly during the Mason Court era. Much of the scholarly debate on constitutional values to date, however, focuses on whether the Court should in fact look to constitutional values in this way, not the kinds of values the Court should consider, given such an approach. This book responds to this gap in the existing scholarly literature, by inviting a range of leading Australian constitutional lawyers and scholars to address the relevance and scope of various substantive constitutional values, and how they might affect the Court's approach to constitutional interpretation in various contexts.
George Williams, Sean Brennan and Andrew Lynch
Blackshield and Williams Australian Constitutional Law and Theory: Commentary and Materials (Federation Press, 7th ed 2018)
This is the new and seventh edition of this acclaimed and authoritative book on Australian constitutional law. Fresh material reflects the contemporary approach of the High Court including its emphasis on statutory interpretation as a tool of analysis in constitutional litigation.The book has also been fully revised and updated for major High Court and overseas decisions, including Wilkie v Commonwealth, Re Canavan, Brown v Tasmania, McCloy v New South Wales, Murphy v Electoral Commissioner, the Brexit Case and Plaintiff M68/2015 v Minister for Immigration.
2017
Brendan Lim
Australia's Constitution after Whitlam (Cambridge University Press, 2017)
Australia's constitutional crisis of 1975 was not simply about the precise powers of the Senate or the Governor-General. It was about competing accounts of how to legitimate informal constitutional change. For Prime Minister Gough Whitlam, and the parliamentary tradition that he invoked, national elections sufficiently legitimated even the most constitutionally transformative of his goals. For his opponents, and a more complex tradition of popular sovereignty, more decisive evidence was required of the consent of the people themselves. This book traces the emergence of this fundamental constitutional debate and chronicles its subsequent iterations in sometimes surprising institutional configurations: the politics of judicial appointment in the Murphy Affair; the evolution of judicial review in the Mason Court; and the difficulties Australian republicanism faced in the Howard Referendum. Though the patterns of institutional engagement have varied, the persistent question of how to legitimate informal constitutional change continues to shape Australia's constitution after Whitlam.
Ben Golder and Daniel McLoughlin (eds)
The Politics of Legality in a Neo-Liberal Age (Routledge, 2017)
This volume addresses the relationship between law and neoliberalism. Assembling work from established and emerging legal scholars, political theorists, philosophers, historians, and sociologists from around the world – including the Americas, Australia, Europe, and the United Kingdom – it addresses the conceptual, legal, and political relationships between liberal legality and neoliberal economics. More specifically, the book analyses the role that legality plays in the dominant economic force of our time, offering both a legal corrective to scholarship in economics and political economy that has paid insufficient attention to legal ideas, and, at the same time, a political economic corrective to legal scholarship that has only recently turned to theorizing neoliberalism. It will be of enormous interest to those working at the intersection of law and politics in our neoliberal age.
Daniel Reynolds and George Williams
A Charter of Rights for Australia (NewSouth Books, 4th ed 2017)
Australia does not have a bill or charter of rights, which means there is no comprehensive law that enshrines human rights in Australia – even though these laws are standard in the rest of the developed world. So what does this mean for the rights of Australian citizens? In this fully revised fourth edition of A Charter of Rights for Australia, George Williams and Daniel Reynolds show that human rights are not adequately protected in Australia, contrary to what many of us think. Using some pressing examples, they demonstrate how the rights of people at the margins of our society are violated in often shocking ways. Several states and territories have adopted their own charters of rights, or have a charter well underway. This book's argument that the time has come to adopt a charter at the federal level is more urgent than ever.
Rosalind Dixon and Tom Ginsburg (eds)
Comparative Constitutional Law in Latin America (Edward Elgar, 2017)
This book provides unique insights into the practice of democratic constitutionalism in one of the world's most legally and politically significant regions. It combines contributions from leading Latin American and global scholars to provide 'bottom up' and 'top down' insights about the lessons to be drawn from the distinctive constitutional experiences of countries in Latin America. In doing so, it also draws on a rich array of legal and interdisciplinary perspectives. Ultimately, it shows both the promise of democratic constitutions as a vehicle for social, economic and political change, and the variation in the actual constitutional experiences of different countries on the ground – or the limits to constitutions as a locus for broader social change.
Melissa Crouch (ed)
The Business of Transition: Law Reform, Development and Economics in Myanmar (Cambridge University Press, 2017)
This interdisciplinary volume offers a timely reflection on law, development and economics through empirical and comparative perspectives on contemporary Myanmar. The book explores the business that takes place in times of major political change through law and development initiatives and foreign investment. The expert contributors to this volume identify the ways in which law reform creates new markets, embodies hopes of social transformation and is animated by economic gain. This book is an invitation to think carefully and critically about the intersection between law, development and economics in times of political transition. The chapters speak to a range of common issues - land rights, access to finance, economic development, the role of law including its potential and its limits, and the intersection between local actors, globalised ideas and the international community. This interdisciplinary book is for students, scholars and practitioners of law and development, Asian studies, political science and international relations.

2016
Gabrielle Appleby and Rosalind Dixon (eds)
The Critical Judgments Project, Re-Reading Monis v The Queen (Federation Press, 2016)
This book introduces students to a number of critical legal perspectives and demonstrates how such perspectives might be used to influence and reimagine existing legal doctrines. It extends the seminal Feminist Judgments Project and adapts it specifically for the purpose of teaching critical legal thinking. Each chapter provides extracts and commentary on the prominent thinkers within the critical discipline before a leading critical scholar rewrites the judgment in the famous 2013 decision of the High Court of Australia, Monis v The Queen, informed and reimagined through this perspective.
Rebecca Ananian-Welsh, Gabrielle Appleby and Andrew Lynch
The Tim Carmody Affair: Australia's Greatest Judicial Crisis
(
NewSouth Books
, 2016)
When Tim Carmody was appointed Chief Justice of Queensland by Premier Campbell Newman in 2014, he had been Chief Magistrate for only nine months. It proved to be the most controversial judicial appointment in Australia's history. Carmody's elevation plunged the Supreme Court and the legal profession into a bitter conflict with the government and with Carmody himself. How did he come to be appointed to such a significant position? What can we learn from this saga about the fragile relationships between politics and the courts? The Tim Carmody Affair places the full story of Carmody's damaging and divisive tenure in context, and identifies key reforms that could prevent this kind of controversy in the future.
Andrew Lynch (ed)
Great Australian Dissents (Cambridge University Press, 2016)
When judges disagree, those in the minority write a dissenting opinion. This book considers the great dissents in Australian law. Their worth may derive from numerous factors. Through a diverse selection of memorable dissenting opinions, this book illuminates the topic of judicial disagreement more generally - not only through examples of instances when minority opinions have been distinctly valuable, but by drawing out a richer understanding of the attributes and circumstances which lead some dissents to become iconic, while so many lie forgotten.
Gabrielle Appleby
The Role of the Solicitor-General: Negotiating Law, Politics and the Public Interest (Hart Publishing, 2016)
This book goes behind the scenes of government - drawing from interviews with over 45 government and judicial officials - to uncover the history, theory and practice of the Australian Solicitor-General. The analysis reveals a role that is of fundamental constitutional importance to ensuring both the legality and the integrity of government action, thus contributing to the achievement of rule of law ideals.
Melissa Crouch (ed)
Islam and the State in Myanmar (Oxford University Press, 2016)
This volume explores the relation between Islam and the state in Buddhist-majority Myanmar from both an empirical and a comparative perspective.It provides an informed response to contemporary issues facing the Muslim communities of Myanmar, furthering knowledge of the interaction between state institutions, government policies, and Muslim communities of the past and the present. The book provides scholarly insights into the politics of belonging for Muslims in Myanmar. This book is essential reading for scholars and students studying Islam in the region.

Greg Weeks
Soft Law and Public Authorities: Remedies and Reform (Hart Publishing, Oxford, 2016)
This book considers the phenomenon of soft law employed by domestic public authorities. Lawyers have long understood that public authorities are able to issue certain communications in a way that causes them to be treated like law, even though they lack legislative force. Soft law succeeds as a regulatory tool because people tend to treat it as binding even though public authorities know that it is not. It follows that soft law's 'binding' effects do not apply equally between the public authority and those to whom it is directed. Consequently, soft law is both highly effective as a means of regulation, and inherently risky for those who are regulated by it. This book departs from previous examinations of the regulatory effectiveness of soft law to examine the possible remedies which might follow a public authority breaching its own soft law. It considers judicial review remedies, modes of compensation which are not based upon a finding of invalidity, namely tort and equity, and 'soft' challenges outside the scope of the courts, such as through the Ombudsman or by seeking an ex gratia payment.
2015
Ben Golder
Foucault and the Politics of Rights (Stanford University Press, 2015)
This book focuses on Michel Foucault's late work on rights in order to address broader questions about the politics of rights in the contemporary era. As several commentators have observed, something quite remarkable happens in this late work. In his early career, Foucault had been a great critic of the liberal discourse of rights. Suddenly, from about 1976 onward, he makes increasing appeals to rights in his philosophical writings, political statements, interviews, and journalism. He not only defends their importance; he argues for rights new and as-yet-unrecognized. Does Foucault simply revise his former positions and endorse a liberal politics of rights? Ben Golder proposes an answer to this puzzle, which is that Foucault approaches rights in a spirit of creative and critical appropriation.

Sean Brennan, Megan Davis, Brendan Edgeworth and Leon Terrill (eds)
NativeTitle From Mabo to Akiba: A Vehicle for Change and Empowerment? (Federation Press, 2015)
This edited collection provided a realistic assessment of the achievements, frustrations and possibilities of native title, two decades since the enactment of the Native Title Act 1993 (Cth), and after the most significant High Court decision on native title in more than ten years, Akiba v Commonwealth, which confirmed the existence of commercial native title fishing rights.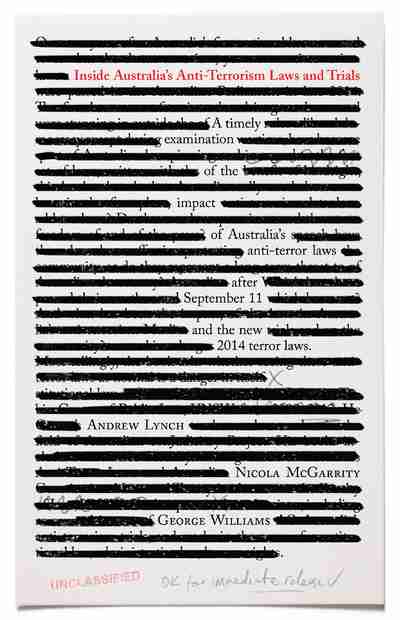 Andrew Lynch, Nicola McGarrity-White and George Williams
Inside Australia's Anti-Terrorism Laws and Trials (NewSouth Publishing, 2015)
Over ten years after Australia's first national laws were enacted to combat the threat of terrorism, yet more anti-terrorism laws were passed in the Australian Parliament in late 2014. This book asks whether Australia really needed to enact anti-terrorism laws in the first place, let alone add to them.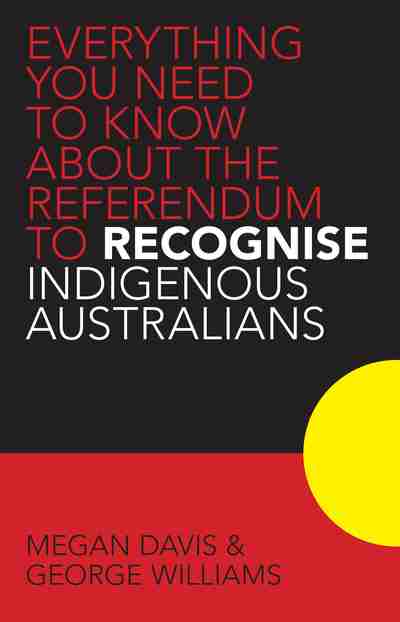 Megan Davis and George Williams
Everything You Need to Know about the Referendum to Recognise Indigenous Australians (NewSouth Publishing, 2015)
This book explains everything that Australians need to know about the proposal to recognise Aboriginal peoples in the Constitution. It details how our Constitution was drafted, and shows how Aboriginal peoples came to be excluded from the new political settlement.
Rosalind Dixon and George Williams (eds)
The High Court, the Constitution and Australian Politics (Cambridge University Press, 2015)
This publication s is an in-depth exploration of the relationship between decisions of the High Court and broader political currents in Australia and investigages the patterns and effects of constitutional invalidation and dissent on the High Court over time, and their correlation with political trends and attitudes. It also examines the role of constitutional amendment in expressing popular constitutional understandings in the Australian system.
Svetlana Tyulkina
Militant Democracy: Undemocratic Political Parties and Beyond (Routledge, 2015)
This book offers a broad comparative look at the legal concept of militant democracy. It analyses both theoretical and substantive aspects of this concept, investigating its practice in a number of countries and on a diverse array of issues. Svetlana maps the historical development of militant democracy in constitutional theory and explores its interaction with various traditional and contemporary notions of democracy

2014
Sean Brennan, Andrew Lynch and George Williams
Australian Constitutional Law and Theory: Commentary and Materials (Federation Press, 6th ed 2014)
In its sixth edition, this publication has undergone a major rewrite. Every chapter has been reviewed and revised, with fresh choices made for cases and extracts to ensure that the book reflects the contemporary approach of the High Court and recent Australian and international scholarship.
Fergal Davis and Fiona de Londras (eds)
Critical Debates on Counter-Terrorist Judicial Review (Cambridge University Press, 2014)
This publication looks at judicial review as an effective and appropriate way to regulate counter-terrorism measures. It brings together voices from all sides of the debate from a broad range of jurisdictions, from North America, Europe and Australasia.
Rosalind Dixon and Tom Ginsburg (eds)
Comparative Constitutional Law in Asia (Edward Elgar Publishing, 2014)
Comparative constitutional law is a field of increasing importance around the world, but much of the literature is focused on Europe, North America, and English-speaking jurisdictions. The importance of Asia for the broader field is demonstrated here in original contributions that look thematically at issues from a general perspective, with special attention on how they have been treated in East Asian jurisdictions.
Melissa Crouch and Tim Lindsey (eds)
Law, Society and Transition in Myanmar. (Oxford: Hart Publishing, 2014)
This publication addresses the dynamics of the legal system of Myanmar/Burma in the context of the dramatic but incomplete transition to democracy that formally began in 2011. It includes contributions from leading scholars in the field on a range of key legal issues now facing Myanmar, such as judicial independence, constitutional law, human rights and institutional reform
2013
Fergal Davis, Nicola McGarrity and George Williams (eds)
Surveillance, Counter-Terrorism and Comparative Constitutionalism (Routledge-Cavendish, 2013)
This book focuses on the issue of surveillance and the breadth of topics covered in this collection include: the growth and diversification of mechanisms of mass surveillance, the challenges that technological developments pose for constitutionalism, new actors in the surveillance state (such as local communities and private organisations), the use of surveillance material as evidence in court, and the effectiveness of constitutional and other forms of review of surveillance powers.

David Hume and George Williams
Human Rights under the Australian Constitution (Oxford University Press, 2nd ed 2013)
This publication was shortlisted in the Tertiary (Wholly Australian): Scholarly Resource section of the Australian Educational Publishing Awards 2014) and deals with how the Australian Constitution protects human rights. It provides a comprehensive overview and analysis of the key public law principles, including the full range of express and implied rights in the Australian Constitution.